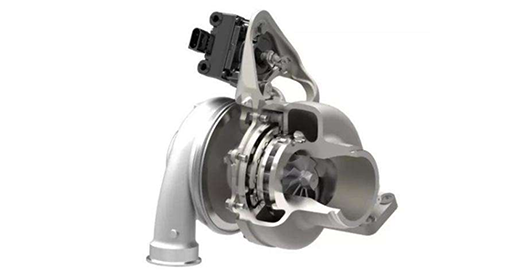 A turbocharger, colloquially known as a turbo, is a turbine-driven forced induction device that increases an internal combustion engine's efficiency and power output by forcing extra compressed air into the combustion chamber.[1][2] This improvement over a naturally aspirated engine's power output is due to the fact that the compressor can force more air—and proportionately more fuel—into the combustion chamber than atmospheric pressure (and for that matter, ram air intakes) alone.
Turbochargers were originally known as turbosuperchargers when all forced induction devices were classified as superchargers. Today the term "supercharger" is typically applied only to mechanically driven forced induction devices. The key difference between a turbocharger and a conventional supercharger is that a supercharger is mechanically driven by the engine, often through a belt connected to the crankshaft, whereas a turbocharger is powered by a turbine driven by the engine's exhaust gas. Compared with a mechanically driven supercharger, turbochargers tend to be more efficient, but less responsive. Twincharger refers to an engine with both a supercharger and a turbocharger.
Manufacturers commonly use turbochargers in truck, car, train, aircraft, and construction-equipment engines. They are most often used with Otto cycle and Diesel cycle internal combustion engines.
Turbocharger Ball Bearing Units are robust, high precision, double-row ball bearing units that provide better energy efficiency than the conventional plain bearings used in most turbocharger designs. Advanced technologies and materials such as aerospace steel, ceramic balls and reinforced cage design, help the unit resist high temperatures and speeds, ultimately extending the life of the turbocharger.