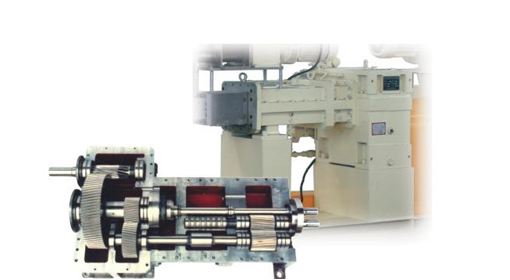 Twin Extruder Gearbox
The twin-screw extruder gearboxes are the ideal solutions for the plastics and foodstuffs industries. Highest torques with maximum efficiency and reliability are their attributes.
Every twin-screw extruder gearbox is designed to meet the customer's exact requirements. As a central component of the extruder, the speed of rotation of the screws and the output torque are realized according to your specifications. The twin-screw extruder gearboxes are standardly available with centre distances of between 18.5 mm and 76 mm . Other sizes can be custom developed to the customer's specifications.
In addition to the extrusion and compounding process, extruder gearboxes are also used as side dispensers for mixing in additives. A bevel gear stage can also be implemented here.